Nenormalizm Records Netlabel Day 2015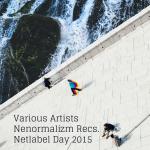 Data
Title
Nenormalizm Records Netlabel Day 2015
Description
Hi, this is Nenormalizm and our compilation, which this time is dedicated to the first day of network labels. We hope that this date will be highlighted in our calendar of releases each year, and select venture day in the calendar, to listen music only from the netlabels we find pleasant. At this time, in the list of artists you can find new names and of course the material from our regular artists. Just hit a play button!
Welcome to the Netlabel Day
Save the date: July 14
On July 14, every single netlabel around the world is invited to join us in the first Netlabel Day ever, and you can be part of this.
A netlabel works on the Internet to let you know about the best independent music, and for supporting independent musicians from all over the world... So it is time to celebrate it!
We are gonna release free and independent music in high quality format, thanks to more than 80 participating labels (check the full list below) from all around the world. Also, we
have 13 unsigned and independent artists that will be releasing new and original stuff too, so there's a lot of free music coming for people in general.
It doesn't matter if you like rock, electronic, noise or whatever. All styles are invited and every netlabel too. Would you be part of the Netlabel Day? Wait for us until July 14, which is the
day when we will release all our music! By now, you can follow us on Facebook and Twitter. For more details, please contact us to contact.netlabelday@gmail.com.
netlabelday.blogspot.com
facebook.com/netlabelday
twitter.com/netlabel_day
Netlabel Day is an initiative by the Chilean netlabel, M.I.S.T. Records.
Be different. Be the first..