2018-01-20 HLER (Heikki Lindgren & Esa Ruoho) live at E:MF Hki 2018, Harjun Nuorisotalo, Helsinki, Finland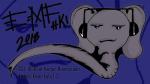 Venue
Venue name
Harjun Nuorisotalo
Address
Aleksis Kiven katu 1-3
00500 Helsinki
Finland
Description
Experi-MENTAL Festival Helsinki 2018
20.1.2018 @ Harjun Nuorisotalo
Doors 18:00 / Showtime 18:30
Voluntary 5eur entry fee.
LIVE:
Andorra
Heikki Lindgren / Esa Ruoho -duo
kolmiotaajuus
Pigments
Utu Lautturi / Astroschnautzer -duo
VISUALS:
VJ Ville Westerlund
***
Andorra
Andorra is a psychedelic chill-out project of Pekka Kemppi, an electronic music producer from Helsinki, Finland.
https://soundcloud.com/pekkakemppi
***
Heikki Lindgren / Esa Ruoho -duo
Heikki Lindgren uses digitally processed organic sounds and field recordings. Low frequency drones with subtle tones of nature and urban environment. Experimental, organic ambient.
https://soundcloud.com/vongoiva
https://www.facebook.com/vongoivamusic/
Esa Ruoho is focused on the sound of sound, the drones, the unmusical dissonance and pure hums. Currently Esa Ruoho is exploring new ways to further delve into the essence of sound.
http://www.lackluster.org/
https://www.facebook.com/LacklusterOfficial/
***
kolmiotaajuus
Long forgotten radio frequencies rattling through the airwaves of time accompanied by the static quantum hums from another dimension.
The forlorn beauty of a sunrise on a exoplanet in the Proxima Centauri,
Jukka Eerikäinen, Valtteri Hyvärinen and Arttu Ronkainen paint canvases of pondering atmospheres, stiched together by arpeggios suddenly awaken from hibernation.
https://soundcloud.com/kolmiotaajuus
https://www.facebook.com/kolmiotaajuus/
***
Pigments
Pigments is a mix of ambient, electronic and industrial soundscapes from Porvoo. Pigments uses a dark color palette to create haunting and repetitive sound art.
https://www.facebook.com/Iampigments/
***
Utu Lautturi / Astroschnautzer -duo
The audio alchemy of Utu Lautturi is dynamic and challenging, ranging from world-flaying destructive waves to soft stereospheric sprites. Hues and shapes both bright and dim merge, only to dissolve into framed chaos. In his performances Utu utilizes electroacoustic improvisation, ritual vocals, organic sound design and pre-arranged sound collages to conjure nuanced journeys suited for deep introspection.
https://soundcloud.com/utu-lautturi
https://www.youtube.com/channel/UChX0Jx09ZXZYf5SSE08wWWg
The roots of Astroschnautzer reach deep into the core of Finnish psychedelic trance and synthesizer madness. Often based on self-built machinery, also known behind the monikers "Tutankhamon 9000" and "Bechamel Boyz", Astro has delivered his rhythmic frolic both on- and off-stage all around the world since 1997.
https://soundcloud.com/astroschnautzer
***
VJ Ville Westerlund
Ville Westerlund is Helsinki based motion designer and multimedia artist. He has been working on wide range of different medias and projects from art installations to commercial animation productions.
Media