2005-04-08 Lackluster live at Compression at Legal Eagle in Dublin in Ireland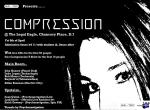 Venue
Address
1 Chancery PI
Dublin
Co. Dublin
Ireland
Description
[Friday 8th of April] Compression @ The Legal Eagle, Chancery Place, Dublin.
Main room: Jon Hussey (Planet Dub),Luke Logan (Technologic),Rob Moore (Technosis), Keylock'd (Teknowarfare), Eddie Brennan (Electric City)
Upstairs: Psychonavigation Records Present: Sean Quinn live, Lackluster live ambient set,
Keith Downey DJ set, visuals by Psychonavigation.
6e in before 12 or w/ student ID, 8eur afterwards, 9pm-2.30am.