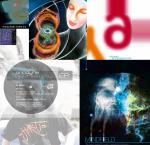 Purchase
Data
Catalog#
PSCHNVGTN-K-T-H-X
Tracks
Lackluster: 06/12/01b
EEDL, Lackluster: Too Few Arguments (No Arguments LACKLUSTERMX)
Manta, Lackluster: Sitting Pretty (Lacklustermix)
Anne Garner, Lackluster: Fools (Lackluster Mix)
Brawdcast, Lackluster: 3 Amigos (Lackluster remix)
Lackluster: Be The Trim Tab
Anodyne, Lackluster: 707 (Lackluster Foiled_Again Remix)
Description
Goodbye Psychonavigation, a friendly little label from Dublin, Ireland, run by one Keith Downey. THX for all the memories.
The first track was released on their debut compilation V/A: Psychokinesis (with Mr. Projectile, Buckminster Fuzeboard and p.p.roy as highlights), the third on Manta's nice little "Head Movement" EP, the fourth on the star-studded remix-album "Remaking the Pearl" (with The Irresistible Force, Richard H. Kirk, Gocat and Multiplex amongst so many others)..
The fifth tune? Psychonavigation put out a small slice of rap in the case of the rare-to-obscure Brawdcast "3 Amigos Ep", with fellow contemporaries Cuttooth and Anodyne - but also the Lackluster remix you might have never even heard.
And let us never forget the massive Anodyne Remixes 12" Ep with the whole A-side covered by The Black Dog, and the B-side split (but it was a friendly divide) between Autechre and Lackluster.
Oh, and then there was a massive compilation, that in digital form introduced us to a selection of 22 tracks - from such names as Norken, Move D, Mick Chillage, Gel-Sol, Spacetime Continuum.. and.. The Future Sound of London. Yep, call it V/A: Mindfield.
I was proud to be a part of every single one of these compilations / remix releases, and now they are presented here for posterity.
They are not available via Psychonavigation anymore, so here you go, collectors and fans of the Dublin sound!
This release is for collectors only.
These are the tunes released by Psychonavigation Records between 2002 and 2011.
It was a nice slice of history, good-to-great memories, a good experience, and now the door is closed and it's time to move on.
credits
released September 9, 2015