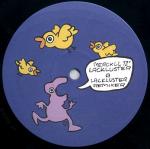 Data
Title
A Lackluster Remixer
Tracks
Lackluster: 07/10/99
Marumari, Lackluster: Botany (Lacklustermx)
Beck, Lackluster: Mixed Bizness (Lackluster Treat)
Lackluster: 31/10/99
Lackluster: Cart Etak
Machine Drum, Lackluster: Machine Drum (Lacklustermx) (28/04/01)
Description
Esa Ruoho a.k.a. Lackluster provides Merck records with a brand new soon to be rare release on 12". "A Lackluster Remixer" consists of him remixing Marumari & Machine Drum, and a special treatment on the A-side as a bonus for those in the know. Still relatively beatier than the defocus lull, but not quite as dark as the merck/rikos 7".
Limited to 1000 copies
Reviews
Lackluster: A Lackluster Remixer: URB Review
Esa Ruoho, who's also released Lackluster material on last year's surprise hit label deFocus, provides a few of his remixes as well as a couple unreleased tracks. The lead on the A-side is the gem, "Strateface/kcl0," where the strong electro edge for which Ruoho is known takes flight in a wonderfully detailed chime world full of synth notes that seem to float like dandelion seeds in the wind. For the remixes, Ruoho hits up Marumari's "Botany" (extracted from Supermogadon) and Machine Drum, lending his deft creation of airy sound stages to both. The last remix, titled simple "-:-," sounds suspiciously like a Beck track. This release is limited to 1,000 copies, so you've gotta move quickly.