Departure [First Class Edition]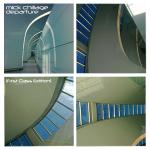 Purchase
Data
Title
Departure [First Class Edition]
Description
In 2009 I released my second EP "Departure" for Irish based Techno label Nice and Nasty now in their 20th year.Nice and Nasty are better known for their more dancefloor friendly cuts so the title "Departure"seemed more than fitting for the release that consisted of four "Chill Out" or "Downtempo" electronic music that ranged from elements of Jazz to soundtrack inspired ambience to bleepy and bass driven frequencies.
Shortly after the release of the original EP a collection of remixes followed, a remix EP of each track every three months which saw the likes of Finlands IDM master Lackluster turning out a couple of rather stunning glitchy yet emotive remixes.
Dave Anderson [Ferox] Showing of his distinct freestyle keyboard playing style amongst some funky yet minimal grooves.Tomas Jirku's remix went off on a really deep musical and majestic vibe.
Ireland's new techno shinning light The Parellel turned out a solid chunk of abstract electro which got some airplay on Dave Clarke's White Noise radio show and UK based IDM/Classical veteran Pentatonik delivered an epic cinematic remix of The Final Storm.