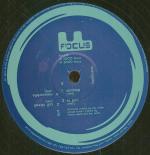 Purchase
Links
Tracks
Lackluster, Tomas Szepe: Suntrap (Sun Dial Jam by Tomas Szepe)
Lackluster: Ix Pen
Lackluster: Cull Streak
Lackluster: Meanwhile
Description
Lackluster
Untitled
FOC349
release date: 27/3/00
A.
.sundial jam (suntrap mix by tomas szepe) (1999)
.ix pen (1997)
B.
.cull streak (1999)
.meanwhile (1998)
After such a good response from everyone about the lackluster
track on the Focus sampler, we have decided to bring the release date of
Esa Ruoho's album and single forward. This four track 12" has taken one
one track 'cull streak' from the forthcoming album that will be released
in March 2000.
Esa Ruoho is a 20 year old who lives in eastern Helsinki where
the temperature is currently -20c. He is a self-confessed lazy bum, who
whilst on Finnish national service has managed to write some of the most
beautiful warming music around.
Lackluster material has only been released through the Monotonik
label where they only pressed 100 cdr's and sold them to people on what
is known as a 'demo scene'. A few tracks have been taken from that cdr
release and have been put together with his latest creations to bring
you what Grooves magazine have called "the ambient side of Autechre".
They go on to call Esa an "electronic genius" but personally we just
feel he is trying to keep warm.
Do you see
Reviews
Lackluster: FOC349: Muzik Review
Haunted by the ghosts of prime early Nineties ambient techno (A.R.T./B12), Lackluster craft the kind of intricate electronic ambience that dances majestically on asteroid belts while you scratch your head and wonder how come such nostalgia sounds so contemporary. Elegiac stuff from Finland.
(CB) ***** (Five Stars)
Lackluster: FOC349: Jockey Slut Review
Plinking with the best of 'em, Helsinki's Esa Ruoho delivers soft and warm grooves with the shimmering Finn-esse of Sheffield's finest. Though as pleasant as a romp in a summer's meadow, there's still enough true grit to make it stand out from the pack. Nothing lacklustre here.
-JS
Lackluster: FOC349: URB Review
It is perhaps surprising, considering the gentleness of the material, to discover that these tracks and the forthcoming album were both recorded while their creator, Esa Ruohoäs, fulfilled his duty with the Finnish National Service. The four tracks on this latest EP pay homage to Warp's Artificial Intelligence era with the sounds, which are individually weak, folding out into enjoyable grooves -- clicking melodies exploring the landscapes sketched out by vast synth sections.
KM
Lackluster: FOC349: 7 Mag Review
Lackluster featured on the recent sampler EP from Focus. This release picks up where the last left off, all dreamy electronics and chunky beats. Of the four on offer, two of the tracks are brand new to this release (the other two having appeared in limited quantities in his native Finland). 'Sundial Jam' features airy keyboards over dark basstones, growing with repeated listening. 'Cull Streak', the other new track, is a downtempo, contemplative piece, pure mood music.
Darren Wall (four dancing men out of five dancing men)
Lackluster: FOC349: DJMag Review
Before sneaking quietly through the back door, into the room marked 'labels to watch,' Focus serve up four more helpings of warm Finnish electronica. Ranging from the beautiful and drifting sounds of 'Cull Streak' to the melodic half time d&b of 'Meanwhile,' Lackluster's sound is like the bye product of digital relations between Lobe, Authecre and Pilote. Or something like that !
(***) FS