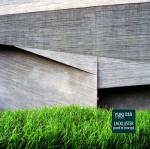 Data
Title
Proof of Concept EP
Tracks
Lackluster: Montaajoo
Lackluster: Whinnye
Lackluster: 03rworbit
Lackluster: Meyouit
Lackluster: Jokatkadfs
Description
Esa Ruoho is always on the go around the Electronica/IDM globe. Thus it is more than a touch of fortune that his restless wanderings washed him to our shores where he left behind a little chest for you.
Five lush Electronica pearls have been aligned to a handy EP under his most famous moniker, which shows certainly proof of not only some kind of concept but also of the unquestionable mastership that Esa exposes in all his musical works. Without trendy side blows some grumblers might call it traditional but the more enlightened listener is fairly aware that glistening tunes and sophisticated beat architecture in broad cinemascope will never ever become obsolete.
( http://www.yukiyaki.org/releases/YkYk016/Lackluster/Proof-Of-Concept )
Reviews
Lackluster: Proof of Concept Ep: Recent Music Heroes Review
Möödunud, 2009. aasta oli Soome elektroonikule Esa Juhani Ruoho`le üks viljakamaid (7 üllitist). Yuki Yaki alt tulnud 5-looline EP näitab kõrglendu. Tänapäevane klassikaline elektroonika, mille peamised eeskujud pärinevad süntesaatoritega vormitud tantsu- ja elektroonilise muusika algusaegadest - 70ndate teisest poolest-80ndate algusest. Otseseid viiteid Kraftwerk`ile on küllaga. Lackluster`i helipilti süüvides torkab kõrva mehe armastus sündisämplite vastu, mis annab tema helile kokkuvõttes meeldiva pehmuse ja soojuse. Psühhedeelne ning atmosfääriline elektroonika lainetab, valgub ja ähmastub. Teiseks mõjufaktoriks - võttes arvesse träkkide kohatist tumepoolsust ning kramplikke kokkutõmbumisi - võiks ilmselt arvata legendaarsete rahvuskaaslaste Pan Sonic´u masinliku šamanismi ning teisalt Autechre`i intellektuaaltechno. Sarnasusi on ka varase Isan`iga - mis ei ole ka ime, kuivõrd mõlemate artistide eeskujud pärinevad samast ajast -, kuid erinevalt Briti duo laisast helipildist suudab Soome legend hoida kuulajat oma mõjusfääris, pakkudes algusest lõpuni konsistentsi, vaheldust ja koherentsi.