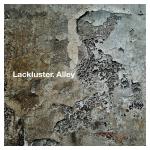 Tracks
Lackluster: Ginger Alley
Lackluster: Pepper Alley
Lackluster: Coffee Bean Alley
Lackluster: Swelter Alley
Lackluster: Cinnamon Alley
Lackluster: Vanilla Alley
Lackluster: Fog Alley
Description
lackluster is walking down the alley and calls us to join him to his irresistible universe full of emotive and gleaming idm sounds. alley is alternately simplistic, beautifully melancholic, ambient / beatless to gorgeous melodic and chilled electronica in a bold and consistent mix.
influenced by the amazing variety of sounds in the 1980s and 1990s, esa ruoho grew up with an inspired musical background. as the close of the century came, he began to experiment with his own equipment and sounds and through this his main project lackluster was born. certainly, the picturesque surroundings of his homeland finland would also impact the direction of his style and his trademark sound. beautiful, whimsical, catchy and memorable are words that listeners often use to describe his compositions. as styles come and go you can always hear a bit of esa's personality and unique sound within his music. esa also records more ambient drone material as one-half of the side project hler. having recorded for iconic indie labels such as defocus, u-cover, merck and others, his back catalog is brimming with highlights. the future is just as bright as esa maintains his artistic integrity throughout these tough times and challenges the listener to come along for the ride.
credits
released April 17, 2023
artwork by stefan alt
hymen records ¥876
Reviews
Lackluster: Alley: Data.Wave Review
The music of the Finnish artist Esa Ruoho is first of all known to the public thanks to the Lackluster project, which perfectly embodies the braindance phenomenon of the early 00s. His main opus is the album Container, emotional and quite easy-going work. Unlike his colleagues (for example Arovane aka Uwe Zahn) Esa stays true to his primordial style with clear and sincere melodies and easy drum-machine rhythm, which he demonstrated on the new album Alley. This release is Lackluster's debut on the German label Hymen Records, which has released a whole galaxy of important projects for the music scene: Gridlock, Converter, Venetian Snares, Lusine Icl, just to name a few.
Alley is straightforward and sincere as well and certainly draws the listener in. Although it becomes obvious that Lackluster acts as the last of the Mohicans, which gives him more freedom of action in this field of old school IDM music. Another undoubted advantage for the musician is the fact that he already has a huge reputation for more than one decade, so this creation can not only attract new listeners, but also awaken many veteran connoisseurs from hibernation.