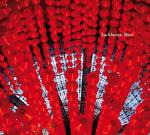 Tracks
Lackluster: Meanie
Lackluster: Wash
Lackluster: Plastic 1
Lackluster: Wallow
Lackluster: Clover
Lackluster: Touches
Lackluster: Iniquity
Lackluster: Bkt Reprise
Lackluster: Hugytrak
Lackluster: Ender
Description
It is been more than 4 years ago that U-cover released the excellent Esa Ruoho - Spaces CD/LP (u-cover 005/Inc.us Five). This time Esa Juhani Ruoho strikes again under the Lackluster moniker. After well received releases on Defocus and Merck his fifth full length album is selected by U-cover and Lackluster. All tracks are in his well known style of minimal but soulful IDM / ambient. With Slices Lackluster delivers thirteen very good tracks full of emotive and rich sounds.
Reviews
Lackluster: Slice: Textura Review
Working from his flat in the nation's capital Helsinki, Finnish electronic composer Esa Ruoho is nothing if not prolific. Having issued hundreds of tracks over the years for labels like Defocus and Merck, Ruoho added two full-lengths to his discography in 2005: What You Want Isn't What You Need (New Speak), a collection of material spanning 1996 and 2003, and Slice, his fifth full-length and first release on Belgium label U-cover since Spaces four years ago.
The music's wholly electronic character avoids sounding hermetic by the range of moods and textures explored within the disc's thirteen songs, whether it's placid pools of melancholy ("Clover") or gleaming cathedrals ("Wallow"). Not surprisingly, the subtly percolating "Zithertrak2" brings a brooding Far East ambiance to the set while electronic music rarely sounds as sweet and tender as it does on the lovely "Hugytrak." There's nary a speck of grime dirtying up Lackluster's gleaming IDM, though a sparkling bounce animates "Touches" and bubbly, Plaid-like beats stream throughout "Wash"; there's certainly nothing lackluster about the Latin-tinged romp "Tumbling Around" and the hazy head-nodder "Subvert." Much like What You Want Isn't What You Need, the melancholic, soulful sound Lackluster conjures on Slice may not be revolutionary yet nonetheless offers a generous dose of listening pleasure.
January 2006
Lackluster: Slice: Igloomag Review
U-Cover have really been cutting the mustard with many of their recent releases: albums from Sense, Multiplex, Kettel and Quench among them. One of two Lackuster albums to be released in the latter half of 2005 (the other being the collection of archive material released on the Newspeak label) Slice happily joins their number in surprisingly upbeat style.
Compared to previous works by Ruoho, Slice exudes an uncharacteristically cheery pop sensibility that frequently engulfs his oft used melancholia. That is not to say that previous Lackluster material was pre-disposed to be mournful or depressing, merely that Slice is more emphatically optimistic. Or is that simply an illusion created by the tone-setting album opener "Tumbling Around," a bright and playfully simple candy-colored melodic hook joined by tumbling, rolling drum patterns?
There's often something tantalizing familiar about Lackluster's sonic palette and in the case of the dramatic "Wash" it is the approachable choice of textures that offset the skittish percussion and general mood of nervousness and unease. "Wallow" follows this pattern too; layers of addictively unclosed, looped melodies intertwining relentlessly with a hook that Lackluster can only terminate by drowning the synths in swathes of jumbled ZX-Spectrum loading noise. This has to be one of Lackluster's most compelling pieces to date.
There are shades of Container in pieces like "Clover" as droplets of glowing neon synth tones blossom and burst amidst half muted percussion, while what may be influences from Orbital are evident in the splashes of "Touches" and the gothic "Zithertrak2." Like "Wallow," "Iniquity" expertly blends together dry, clonking percussion with scattershot and skittish waves of infectious melodic hooks.
The moods that appear on Lackluster albums are nothing if not eclectic, and just when this overall feeling of unease seems ready to characterize Slice, along comes the cuddly warmth of the loping "Hugytrak." And if that doesn't work for you, "Ender" and "Subvert" offer two further diverse styles to close out the album, the former a vibrating mass of highly charged, fizzy synths and chattering fx, the latter a cold and almost disturbing looped hip-hop beat underpinning foggy ambience and a heavily distorted sermon, the dialogue of which is too hard to make out most of the time.
Meandering missteps like "Meanie" or "Plastic 1″ aside, this is a splendid collection of optimistic and yet bracingly autumnal electronic pop moments that drive the Lackluster sound in a new and infectious direction. The mixing is bold, confident and bracing, the melodies alternately uplifting and thought-provoking and the sound palette typically rich and varied. Slice is quite possibly the finest and most consistent Lackluster work to date. Highly recommended.
Slice is out now on U-Cover.