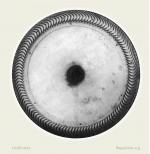 Purchase
Tracks
Lackluster: Hmainham
Lackluster: TKB
Lackluster: Screech
Lackluster: One Cycle (More)
Lackluster: LL060205
Lackluster: Yoggi
Description
"Repulsine" is I.D.M. Legend Lackluster's 16th release and first release on Soulseek's "SLSK Records" label.
Since 1997 Lackluster has been creating inspirational I.D.M., starting with his roots in tracker and chip-tunes, growing ever more sophisticated in his musical aesthetic. "Repulsine" is Lackluster's newest offering; a 6 song EP, it is a combination of unreleased older tracks written specifically for this release.
While the title "Repulsine" may just sound like a play on words, the origins of the title for this EP go much deeper than a mere calembour.
Inspired by the writings of the visionary thinker Viktor Schauberger, "Repulsine" is an ode to water in its myriad forms. Schauberger's core idea was that life is sustained by a gathering, inwards type of movement; the Repulsine was his way of physically manifesting this theory. A Repulsine is a machine that mimics the methods of nature; it creates energy by encouraging a centripetal, inwardly spiraling movement of water or air. Absolute straight lines are rarely a natural occurrence; therefore the Repulsine mimics the curved lines that are the mainstay of our natural environment.
Lackluster (a.k.a. Esa Ruoho) says; "The strands of thought expressed by Viktor Schauberger about water made my intuition resonate with recognition about the reality and truth of Schauberger's glimpses into nature's inner workings; it made me sit up and take note. This led me on a search that is far from finished, but which has currently resulted in my homage to Schauberger, water, and implosion." Although Esa Ruoho is a native of Finland, each track on "Repulsine" was composed while Esa was far away from home, under the influence of the beauty of his natural surroundings. Rothe Abbey, Ireland, Shoreditch, England, and Regina, in Saskatchewan, Canada all helped to feul Esa's creative flow.
Esa explains further; "I suppose I compiled these songs because I wanted it to be a happy, cheerful, joyful, simple, and frank EP which is reaching towards the day that the "Utopian" thoughts of Schauberger, Tesla, Reich, Buckminster Fuller, etc. will be accepted as a reality, and are seen put to use, instead of the mess the world is at the moment."
Lackluster delivers his point of view in a most stunning manner; spinning, spiraling vortexes of sound, growing and sweeping heavenward, wash over and through you. Sparkling transcendent melodies can move you through your day or give you space to daydream in. Each song unfolds gracefully, with layer upon layer being added or peeled away, enveloping the listener in a complete aural experience. Lackluster has dug deep into the collective unconscious and offers up something we can all connect with; the beauty and wonder of our natural external reality, the thing that so often we have lost touch with. Listen, relax, and enjoy.
------------------------
In November 2007, SLSK Records released Repulsine EP, a six track CD release from Lackluster.
The tracks are called "Hmainham", "TKB", "Screech", "One Cycle (More)" "LL060205" and "Yoggi".
Previous appearances, versions, software, meanings:
- Hmainham previously appeared on the V/A: From Our Hoods to Yourz 12" released via RA-X's label Angelmaker Records.
- Hmainham was made with ReViSiT & Ableton Live on Sony Vaio PCG-GRX690, in Summer 2005.
- Hmainham was made in Rothe Abbey, Dublin, Ireland.
- TKB is a re-shuffle of BKT, a track previously released on the "What You Want Isn't What You Need" CD released by Newspeak Records, Ola Bergman's label - which was distributed by Baked Goods.
- BKT, the original, was made in 1998, with impulsetracker.
- Esa remixed BKT into TKB by reversing, altering and jamming with the instruments and sequences of BKT, mixing in rhythms from "Catch22" (Container,2000) and other percussive elements from unreleased/unfinished tracks. Esa composed TKB with Ableton Live in Summer 2005, on the Sony Vaio PCG-GRX690.
- TKB was made in Rothe Abbey, Dublin, Ireland
- Screech was made with Logic Audio Platinum 5.5.1, at French Place, Shoreditch, London, on 15th of December 2003, with the Sony Vaio PCG-GRX690.
- Screech was composed whilst Esa was staying at the flat of Jeanga (Blase Records)
- Esa composed a second track on the same day, "Goodbye Frenchplace", which was released on the Controne Records "Mioku" compilation. This makes "Goodbye Frenchplace" into LL151203B, and "Screech" LL151203.
- One Cycle (More) is a double-tune, One Cycle was composed in Rothe Abbey, Dublin, Ireland in November 2004, using Logic Audio Platinum 5.5.1 and ReViSiT (developed by Chris Nash). Esa composed (More) at Rothe Abbey, during summer 2005, using Ableton Live, Korg 03R/W and the Roland Alphajuno1.
- Esa has performed the "One Cycle" portion of this tune during his liveperformances from 2005 onwards, using Ableton Live.
- Esa composed LL060205 on the 6th of February 2005 in Rothe Abbey, using Korg 03R/W and Logic Audio Platinum 5.5.1 on the Sony Vaio PCG GRX-690.
- LL060205 is Esa's first released MIDI tune wholly produced out of the Korg 03R/W outboard rack-synthesizer (and fed through Logic Audio Platinum 5.5.1 via the RME Hammerfall DSP Multiface soundcard.)
- Esa composed "Yoggi" with Impulsetracker, in April 2001 in Regina, Saskatchewan, Canada. - Esa has used Ableton Live to perform Yoggi at live-gigs.
- Repulsine EP's name is Esa's homage to Viktor Schauberger, who has been Esa's interest for a total of four years now.
- The artwork of Repulsine EP consists of photographs of the Repulsine, researched and developed in the 1940s by the nature-copying Viktor Schauberger, for the creation of electricity, heating, airconditioning, waterpurification, particleseparation and levitation.
- Viktor Schauberger is a rather unknown scientist and inventor in the field of biomimicry, the comprehending and copying of nature.
- Four of the songs on Repulsine EP have been composed during Esa's fervent studies of the articles, books, sketches and patents of Viktor Schauberger, in the fields of agriculture, log-fluming, river management, water-turbines, water-purification, natural air-conditioning, oxygen-purification and motors for energy and propulsion production based on the movement he saw in the trout, the eagle, the snake and in his 6 generations acquired family heritage knowledge of the functioning of water in heat and cold, during day and night.
Interesting Trivia:
1) In order to acquire permission to use the images in the artwork of Repulsine EP, Esa Ruoho and Roz Arbel (SLSK Records) had to contact the Gateway publishingcompany, and after that contact the book author Callum Coats (author of the "Living Energies", "Energy Evolution" books which certain pages were scanned detailing pictures taken by Richard Feierabend of the Repulsine prototype rescued from USA in the 1990s.) . This process delayed the release of the Repulsine EP for over 7 months.
2) Pirates press, the CD manufacturer, did the first run of Repulsine with faulty artwork (the behind-CD art was slightly off-center). The CDs were demanded to be replaced by SLSK Records, for free, which Pirates Press did, however, a year later Pirates Press were demanding money for the delivery of the off-center CDs also, and would not accept the off-center printed CD's being sent back, which also cost SLSK Records the postage of hundreds of CDs.
3) There were plans of a micro-site made with Flash to further display the Repulsine and Viktor Schauberger's sketches of the time to illustrate the inner workings of nature, perceived by him as an inventor, philosopher, forest-warden and engineer. This never came to pass.
4) SLSK Records did not secure distribution for Repulsine EP, thus meaning it is largely unavailable in the world as a physical release.
5) Esa composed a followup album (Undulate LP) and EP (Expulse EP) to fulfill the contract between Esa Ruoho and SLSK Records. These have not yet been released.
6) All three releases (Repulsine, Undulate, Expulse) are named through the Biomimicry of Viktor Schauberger, the Acoustic Cavitation/Elemental studies of the musician-instrumentmaker-electroacoustic engineer John Ernst Worrell Keely, and the generic studies of Esa Ruoho into Nikola Tesla, Walter Russell, Wilhelm Reich, R. Buckminster Fuller, Thomas Henry Moray, Ed Leedskalnin, John Bedini and Howard Johnson - and nature.
7) As thus, Repulsine EP is a tribute ep to the "Chip-Sound" of 8-bit / 16-bit computer music software and the soundtracks of game-consoles, and a tribute to Viktor Schauberger and other researchers of his ilk.
User-contributed text is available under the Creative Commons By-SA License; additional terms may apply.