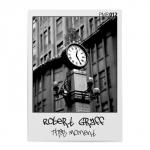 Description
Cobalt Recordings, USA
Reviews
Robert Graff: This Moment (Lackluster Remix): Beatportal Review
Robert Graff [PMR Records / Cobalt Recordings)
#16 in this month's The 20
* Written by: Terry Church
The Lackluster Naff remix of Robert Graff [a] 'This Moment' is anything but.
Beatportal has never heard such a beautiful, blissed out drum & bass record before.
It's difficult to see how Lackluster's remix came about; so far removed it is from the dark, bassline-led original.
Robert Graff's original does have melancholic piano lines and sad, depressed pads and strings but its main focus is the warbling, aggressive basslines that he wraps around driving, compressed kick drums.
Lackluster's version on the other hand is a bold attempt at restructure – by taking the piano and melancholic musical elements of the original and making them the core focus of he has created something very special.
It's progressive and more Aphex Twin than High Contrast, with its glitchy, wild breakbeat jiggling beneath serene pads and warm inviting synths steeped in sadness.
Finnish producer Lackluster aka Esa Ruoho has released a plethora of delicately balanced electronica over the past couple of years, from tech house on Cobalt Recordings to his funky conceptual electro 'Slice' LP last year on Kahvi Collective, but his music has never sounded as focused as this remix of 'This Moment'.
Impressively different.