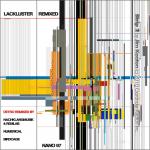 Tracks
Lackluster, Nachklangmusik, Remlab: Detro (Nachklangmusik & Remlab's Schon & Bose rework)
Lackluster, Numerical: Detro (Numerical's IMR remake)
Lackluster, Birdcage: Detro (Birdcage's Untitled mix)
Description
released on Nice & Nasty
www.junodownload.com/products/remixed/1692264-02/
Detro is a deep, melancholic ambient piece of techno that has been transformed by Nachklangmusik & remlaB, Birdcage and Numerical.
Lackluster is one of Finland's foremost exponents of electronica and techno, previously recording for Merck, deFocus, Psychonavigation to name a few. Known for detuned, anti rhythm musical science, Lackluster makes music with one purpose to challenge the listener; however, his use of melody, sub bass and juxtaposing sounds touch the soul and challenge the listener on an entire different cognitive and emotional level.
Detro is forthcoming on Nice & Nasty as a teaser to the a larger project that Esa aka Lackluster is involved in and N&N have been working on for over 12 months now.
Lackluster has enlisted the skills of Japan's Birdcage; the Anglo-Irish Numerical; and the new techno tag team from Germany & Ireland, Nachklangmusik & remlaB.
Nachklangmusik & remlaB
- Basic remix that takes the simple melody and string and drops a deep jazz break and create a simple and effective track. This collab remix between Tim Trebroudt and Desy Balmer and the results are intriguing.
Numerical
- The main man behind Immunity recordings, Nick 'Numerical' Rodrigues drops his trademark dub step quality onto the emotive original and creates a funky twist.
Birdcage
- Lackluster and Birdcage are a marriage of techno heaven. Finland and Japan joined in harmony. Birdcage was recently described as 'music created in an antique music box repair shop. Creaks and pings like rusted clocks. Purrs and sparkles like a warm wind blowing through a baby crib¿s multicolored mobile' and well we couldnt say it better.
At N&N HQ we have debated and argued the genre of this release. Call it what you want. Techno or Electronica you decide. it is what it bloody well is!
Support from:
Orlando Voorn (Nightvision), Oscar TG (Red Robot), Vakama (Soma), Mick Chillage (Psychonavigation), Aronek, Cian Frawley, Tomi Chair (Japan), Jay Riordan (Dublin Xpress), Tomas Jirku (Force Inc), Dj Miller (Dublin) and many others.