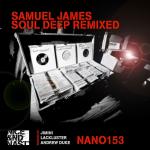 Description
After the success of My Soul is Deep EP this summer, Samuel James drops Soul Deep remixed by Jimini, Lackluster and Andrew Duke.
The remixes take the hi tech soul of the original and twist its mellon into a funky deep house of Jimini to the abstract techno of Lackluster to the deep tech house of Andy Duke, all of which compliment the original and pay homage to the musical heritage of Detroit and Chicago.
With support from some of the worlds leading DJs, Samuel James and Nice & Nasty deliver another fine piece of deep melodic techno and thanks to the lads for twisting and turning and churning out three top quality remixes.