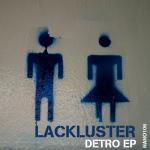 Links
Tracks
Lackluster: Detro
Lackluster: Swollen
Lackluster: Maze
Lackluster: LL200105B
Description
Lackluster is a native of Finland; however, his association with Ireland is strong. In the 2000s Esa Ruoho aka Lackluster lived in Ireland where he released music for mightly labels like Merck and deFocus. His live sets in the Irish techno scene brought him both attention and acclaim and he hooked up with Dublin ambient label Psychonavigation. It was his remix of Sitting Pretty for Manta that inspired Desy Balmer to sign Lackluster up to Nice & Nasty.
The Detro EP is a collection of Four uncompromising trax that fuse anti-rhythm, detuned melody, abstract beats and deep nasty funk. Lackluster displays elements of Minimal techno, dubstep and Detroit techno but in fairness Lackluster and his music is unique and more at home with the Sheffield bleep scene of the early 1990s without losing its place in modern music. As you can tell from the waffle here it is difficult to pigeonhole Lackluster and describe his music using standard vocabulary and grammar as the only way to describe it would be to recreate language for that specific purpose.
Lackluster has two rare gem remixes of the debut hit from Nice & Nasty, Bolivian Angel by Ubiquity which is only available on a limited promo CD; however, subsequent remixes for Heretics of Disko, Spearchukka, Tomi Chair and Mick Chillage paved the way for his debut release on Nice & Nasty, Detro.
Bizarre as it seems, Detro EP that features 4 original pieces of electronica is released after the remix EP of the eponymous track by Birdcage, Numerical and Nachklangmusik & remlaB.
The Detro EP is made up of four brain shaking pieces of techno
1. Detro
2. Swollen
3. Maze
4. LL200105B
(P) and (C) Nice & Nasty. All Rights reserved.
Info / Licensing / Bookings: Desy Balmer +353 (0) 86 407 6658
http://www.niceandnasty.net