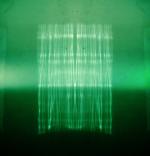 Purchase
Description
Realignment is an hour long trip to subconscious paths that HLER travels on by improvising and reacting, navigating by intuition. Erratic, electric, slightly noisy, but occasionally dissolving the desolate industrial landscape to reveal beautiful harmonics, like plants slowly taking over an abandoned man-made environment.
Realignment on tunnin mittainen matka alitajunnan poluille, joilla HLERin kaksikko kulkee intuition johdattamana improvisoiden ja toisiinsa reagoiden. Arvaamaton, sähköinen ja hieman meluisa teollinen kolkkous puhkeaa ajoittain häilyviksi harmonioiksi; kuin kasvit ottamassa vallan ihmisen rakentamassa mutta jo hylätyssä ympäristössä.
released April 12, 2019 on Luola Records, sub-label of Luova Records!
HLER is:
Heikki Lindgren - Mochika XL synthesizer
Esa Ruoho - Live processing
Artwork by Tommi Jakonen
credits
released April 12, 2019