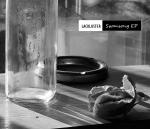 Purchase
Tracks
Lackluster: Preposterous
Lackluster: Shonuff Shoreditch
Lackluster: Filchingadayoff
Lackluster: Monomalism
Lackluster: Lifegoeson
Lackluster: Slippery Sensuality
Lackluster: Rowdy
Description
Since the very start of Kahvi, one artist has been an almost regular fixture releasing frequently throughout the years. Not only on Kahvi but also on many commercial labels, and touring the world with his unique live set.
Lackluster is a familiar name in electronic music circles and we're happy to feature his latest ep entitled Swansong.
There is a selection of older and newer tracks from Lackluster's extensive archive of tracks, minimal and subtle like in shonuff shoreditch to epic and loud in preposterous. Swansong is slightly more of the underground and glitchy side of Kahvi but still refreshing in it's outlook to clear away the cold winter months and welcome in the summer at last!