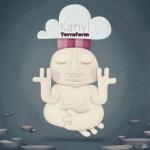 Description
The VA release for 2011 is finally upon us. After many months of collecting submissions, organising the playlist and mastering along with creating the cover artwork, the result is 'Terraform'.
In the theme of new planets and the creation of new worlds, the tracks evolve the struggle and desperation involved, along with the chilled out vibes of lush new valleys and beautiful landscapes.
The VA includes 30 tracks from 28 artists including some famous and familiar (and there is even one of the first new tracks from 4T Thieves included). Its a huge download (400mb for the mp3 archive, 360mb for the podcast) but I hope you'll agree that the result is worth it!