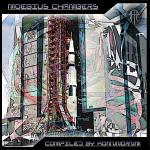 Purchase
Description
13 experiments have taken place in our underwater laboratories and as the oceans pool and gyrate to form new life on their own ; a new down-tempo creation emerges in unison.
**
With over a year of brainstorming and compiling JellyFish Frequency Recordings is overjoyed to bring you our first VA chill-out compilation.
**
Featuring electronic artists spanning genres from: experimental IDM to shoe gaze post rock, from ethno-chill to comedy, and trap/dubstep to progressive.
**
We are pleased to include the http://www.quantumheat.org project with this release and look forward to benefiting them! Thanks for your help, awareness and generosity!
Read more on their site and follow progress on their blog here: http://www.quantumheat.org/index.php/follow
**
Without further adieu lets evolve in these Moebius Chambers !!
credits
released 27 September 2013
Art by Forrest Eggleston
Border + Typography by Victor Enteogeno
Compiled by Johan Konvndrvm
with support from Tre Munroe.
Mastered at Anomalistic Studios by Jonny Cakes aka SooSpicey
JFFRNET0014