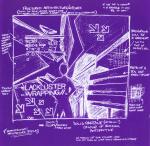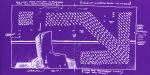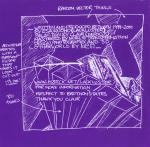 Tracks
Lackluster: In Passing
Lackluster: Gid
Lackluster: Close Enough
Lackluster: KCL1
Lackluster: Too Loose
Lackluster: Flitter
Lackluster: ST-00:
Lackluster: Tall#5
Lackluster: Kvaak
Lackluster: Swirl
Lackluster: Ging Gage
Lackluster: Wrist Control
Lackluster: SHK2X
Lackluster: Hands Hands
Description
deFocus records
Reviews
Lackluster: Wrapping: Igloomag Review
Wrapping is Lackluster's follow up album to Container on DeFocus. The
question is.. where has this been for the last two years? Almost drifting into the world of legend it began to look as though this album would never be released, much to the annoyance of many – not least Esa Ruoho himself.
The answer is that the DeFocus label, after many, many months of winding down it's release schedule, appears to have closed and, as such, this represents the label's bow out release. This is a great shame, but at least the public has been given the opportunity to sample this bridge between Lackluster's debut album for DeFocus: Container and future releases. And so, DeFocus' long-player output is book ended by Lackluster releases.
After the critical acclaim deservedly heaped upon the Container album (notably in the also now sadly defunct Warp Records forum) and the various other EP's released under the Lackluster name, it is good to finally enjoy the sequel. We now have a chance to hear how the Lackluster sound has evolved over the two-year period following that covered by Container (all of the tracks are subtitled with what I assume to be their 'creation'
dates).
DeFocus released a sampler 12″ for Wrapping some considerable time before
the album, and featured several exclusive tracks that do not appear either on the CD or vinyl version on the long-player. This 12″ features an interesting glimpse into Esa's earlier work and is well worth picking up as an accompaniment to the album.
As for Wrapping itself, it is an essential follow-up to the wonderful Container and, true to the eclectic nature of Lackluster's other releases, expands in many different directions, featuring forays into new sonic spaces previously unexplored by Lackluster. Wrapping features an extremely strong opening in the form of "In Passing," a warm, luxurious, summery track that is amongst the finest work Lackluster has released to date. "Close Enough" continues this theme; again featuring laid back, lush, balmy synths and pads. This is followed by the gloriously hazy, sun drenched
"KCL1," which serves to heighten the atmosphere considerable. In fact, the warm and comforting atmosphere is built upon layer by layer with each successive track.
"ST-00″ and "Kvaak" dive headily into much more percussion driven territory whilst retaining that unique Lackluster edge. "Kvaak" is one of the most frenetic Lackluster tracks yet, combining odd accordian-esque synths, a relentless, complex and driven sheet of percussive mayhem and arpegiated synths all over the place.
Whereas Container was a very emotive and at times melancholy affair,
Wrapping comes across as a more experimental and atmospheric album but
remains wonderfully free of pretension. Music as honest as Lackluster's is very hard to come by. Most notable is that Wrapping is a perfect album for the summer – a season
that this album suits better than any other. It is a supremely relaxing listening experience and the vast majority of the pieces presented here bask in a shimmering, heady warmth and glow. "Ging Gage" and 'Shk2x" are very fine examples of this, both tracks being awash with lush, emotive synths and pads that soothe the nerves.
Wrapping is not a Lackluster release that should be overlooked. The emotional and atmospheric warmth and beauty of the tracks on display here make this essential listening and an interesting contrast to both Container and the recently released Showcase (available through Merck Records). Snap it up while you can before 2000-2001 become "Lackluster – The Missing Years!" With the DeFocus label apparently now no longer functioning, this sadly may not be around for much longer.
Lackluster: Wrapping: Boomkat Review
deFocus Lackluster Wrapping
Esa Ruoho drops the finest contents of his hard disk drive and delivers it with love to Defocus. Though this is a hell of a lot more than a random collection of tracks. Like his Finnish bud Brothomstates he's come a long way in a very short space of time. Stylistically much of 'Wrapping' sounds like classic 80's arm detroit techno. Influences from Magic Juan to Carl Craig to Black Dog but rather than being a mere copyist, Esa brings a fresh originality to these pieces, managing to inject his own melodic, rhythmic stylings. 'In Passing' and 'Gid' play on this theme before 'Close Enough' blisses out with a downtempo killer, heart yearning melodies and crisp original lo-fi'ish tongue clicking percussion. Fourteen tracks - seventy minutes, a very high standard is kept through the whole extended running time. Very un-lacklustre, this is Esa'a finest work to date. Acquire.