Feelin' Electrified / Tracey's Revenge (Remixes)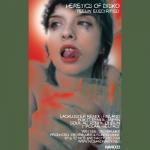 Data
Title
Feelin' Electrified / Tracey's Revenge (Remixes)
Description
The eleventh record from Nice & Nasty is a split 12" between Desy Balmer's Heretics of Disko project and Kenny Black's A Diff Kinda Brotha guise.
Side A:
Heretics of Disko
Feelin Electrified Remixes
1. Yukio Remix
2. Lackluster Remix
Yukio delivers a pounding and deep groove from Sapporro, Japan whilst Lackluster goes quite glitchy and atmospheric on it from Helsinki, Finland. Both take the big bongo-tastic dance floor track that was inspired equally by Masters at Work and Joey Negro as it was Carl Craig and Richie Hawtin. This is disco-techno or disco-tek at its best! The oringal was written and produced by Desy Balmer and Robbie Dunne (aka Spectrum is Green) and the online release also features further remixes from T-Polar (Belfast) and Soul AD (Mode Music, Dublin) and for those serious about their house music, for those who love a part floor stomping groove and those who also like a bit of hi-tech soul and acid then this has it all.
Side B:
A Diff Kinda Brotha
Tracy's Revenge Remixes
1. Katsuhiko Remix
2. Nasty Bobby remix
A Diff Kinda Brotha is the latest incarnation of Swedens master of hi tech soul and all things Detroit techno, Kenny Black (Finest Blend Recordings, Concrete Soul Collective). Kenny Black is a collaborator of Orlando Vorn, Sean Rudiman and Terrence Dixon and is to his native Sweden what Robert Hood is to America or Fabrice Lig to Belgium. Tracys Reven and Deep Troipical are out now on Nice & nasty as an online eclusive, however the remixes come in two shipments. First and foremost the split vinyl here features Katsujiko of Sapporro, Japan and Nasty Bobby aka Rob Mellor of Leeds, UK whilst the online version will also feature a further three stunning remixes from Ireland's leading exponents of techno club culture – Suil Shapre, Mike McCoy and String. This flirts with deep house and acid house but really can only be pigeon holed among techno and dam fine techno too boot.