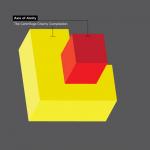 Description
The Centrifuge Charity Compilation.
Limited to 100 copies. Physical release originally sold only at a benefit show on 19th September. Remaining copies shipped to those donating £15 or more. Comes with a download code for these tracks (aka Volume 1 Digital Release) plus a second set of tracks (Volume 2 Digital Release). Both digital releases also available by donating £10 or more to Macmillan Cancer Support through the Centrifuge's Just Giving page.
Track 2.14 physical file is titled "Bab Tascos Screamin S#3567F", but the accompanying read-me states the track name is "Bab Tascos Screaming Spell Mix".
Mastered at Bell Tower Studios.
5k3k51 & S>>D appear courtesy of Icasea Records.
Jodey Kendrick appears courtesy of Rephlex Records.
Jonny3snareS, Jilk, T-Toe, Gavin Hislop, Microphyst and Beatwife appear courtesy of Ideation Records.
Artwork By [Design] - Tom Lobo Brennan
Mastered By [Additional] - Dom Oxynucid*