Bucolic Eclectic Electronic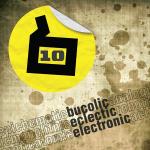 Data
Title
Bucolic Eclectic Electronic
Description
10 years spent in production, parties, discoveries, music and life in the electronic music world justified a sampler. This year, BEE Records celebrates its 10 years and for the occasion, has request a track to all our artists and some famous guests too, for a unreleased and remixes tracklist.
10 years spent in electronic music discoveries in several kinds. At the beginning really electronica with Treacle, Phasme or Private Eye, the label always looked away. BEE Records touched then music more dancefloor as Paral-lel's breakbeat, and IDM/techno of SKNDR and EBS, as well Trip-Hop, almost Pop of Cosmos70, without forgetting the funny electro by Noone. Those ways have even bring us to the experimental electro of Pierce Warnecke, and the shiny sounds of nth Synthesis.
On the road, BEE Records shared some moments with several famous artists. Kid 606 or Lackluster during the Pi Days in Lyon, the parisian Niveau Zero and his structure called « Subculture », Opti from the young label Airflex Labs, Stalk form 1/G, Eat Rabbit, micromusic's ambassador in France and abroad, Subversive Boy, met several times... all those moments permit us to become who we are.
This sampler really shows our invest in production of a good electronic music, inspired and original, whenever it will be possible to do it during time crisis. An essential collection piece which comes in a well supplied catalog.