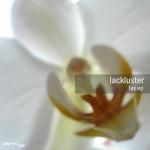 Purchase
Tracks
Lackluster: D2trak1
Lackluster: Aged
Lackluster: Plastic 1
Lackluster: Howhappyareyou
Lackluster: D2trak2
Lackluster: There Isn't Any Just Us
Lackluster: Tvlayers
Description
Lackluster is no stranger to experimental electronic music and IDM, he's been involved at the top end of the scene for years with a string of top releases behind him and a reputation to match. His engaging melodic IDM is both aesthetically pleasing and technically gifted. He's a real gem of the genre. Ambidextrous Records' re-release of his LAX Mini-Album is a testament to the artist's inherent talent and we're delighted to be releasing it.
Reviews
Lackluster: Lax Ep: IndieRockMag Review
Le streaming du jour #1628 : Lackluster - 'LAX EP'S'étalant sur plus d'une demi-heure, LAX est suffisamment long mais surtout si dense que l'on en vient à remettre en question sa catégorisation en tant que court-format.
Qu'importent les étiquettes, l'essentiel n'est pas là avec cette nouvelle sortie du finlandais
Lackluster
. Néanmoins, tout semble si calculé dans les paysages dressés par le prolifique producteur, auteur d'une dizaine de LPs depuis ses débuts en 1999, que nous ne nous permettrons pas davantage de mettre en doute ses choix artistiques.
Tout semble avoir un sens sur
LAX
, et à l'ambiance cotonneuse du
D2trak1
qui semble nous placer dans un cocon d'IDM éthérée succède un
Aged
bâti sur un gimmick répétitif au piano qui fait émerger une forme de malaise crépusculaire. Entre fausse candeur minimaliste (
Plastic2
), aspect vaporeux s'appuyant sur des synthés cheap,
There Isn't Any Just Us
et la dimension glitch
Warp
ienne déstructurée du chaotique
TVLayers
final,
Lackluster
dévoile une palette sonore aussi étendue que cohérente, également portée par quelques synthés que l'on croirait sortis d'un film d'épouvante et qui transcendent l'ambient initiale de
Howhappyareyou
.
Jusqu'à présent, le Scandinave s'était surtout invité dans nos colonnes au détour de contributions collectives. Ainsi, il y a cinq ans, nous évoquions
son remix du Feature Film de The Ebertbrothers
alors que deux ans plus tard, nous soutenions
la gargantuesque compilation Touched Two
à laquelle il participait avec un
Calming Presence
sombre et minéral. Au regard de sa riche discographie, celui qui a cette fois posé ses platines chez les Écossais d'
Ambidextrous Records
méritait bien que l'on place la focale de manière plus approfondie sur ses propres travaux.