2022-08-31 Esa Ruoho DJ-set at Signature Dark X Oodi X Lovi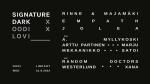 Event
Event name
Signature Dark X Oodi X Lovi
Venue
Address
Töölönlahdenkatu 4
00100 Helsinki
Finland
Description
Signature Dark X Oodi X Lovi
Signature Dark and Lovi Ambient club together with Oodi produces one day ambient festival.
Line-up:
LIVE: Jolea 17:15-18:00
LIVE: Empath 18:15-19:00
LIVE: Tapani Rinne & Teho Majamäki 19:30-20:30
VJ Westerlund 17:15-18:00
VJ Xana 18:15-19:00
VJ Random Doctors 19:30-20:30
DJ Marju 15-16
DJ A. Myllykoski 16-17
DJ Arttu Partinen 17-18
DJ Mekaanikko 18-19
DJ Satoi 19-20
Free entry.
LIVE: Jolea
Jolea is a producer and artist from Helsinki, whose music combines electronic production and sampled acoustic instruments, which together create dark, melancholic soundscapes. She released her first ep "Ghostly Figures" on Audiobaum in 2009 and her latest bass heavy and aggressive double single " Rag Doll / Forever Kept From Me" LP came out this April. Her set will be a turbulent sonic journey through feelings of desperation and hope, memories, reflections and realities.
http://www.jolea.blue/
LIVE: Empath
Explores his ambient productions with this first ever live set. Forces of Finnish nature and humankind's tribal core mark the foundation for this musical journey.
https://linktr.ee/empath00
LIVE: Tapani Rinne & Teho Majamäki
Since the beginning, space and the sound of it has been one of the cornerstones of Tapani Rinne and Teho Majamäki's music. With the new album, the musicians wanted to keep outside factors to a minimum and record compositions in controlled studio conditions. Listen to the vibration of metal and wood. Focus on sensing the mutual resonance of the elements and the sensitivity of improvisation. A presence on the border of the familiar and the unknown. The recordings took place in Kitee, Eastern Finland, near the Russian border.
https://tapanirinne.com
www.tehomajamaki.com
VJ Westerlund
Broken videos, lost signals, nature, abstract worlds, order and disorder. From these sources VJ Westerlund creates a visual journey in live performance. Ville Westerlund is a Helsinki based motion designer and multimedia artist. He has been working on wide range of different medias and projects from art installations to animations.
VJ Xana
Alisa is a visual artist, director and VJ working in Helsinki. It's about creating moods and stories and putting them into audio-visual forms: a short film, an installation, a VJ set or something else. Alisa on Helsingissä työskentelevä taiteilija, ohjaaja ja VJ. Teokset ovat audiovisuaalisiin muotoihin upotettuja mielialoja ja tarinoita: lyhytelokuvia, installaatioita, VJ-settejä tai jotain muuta.
www.instagram.com/alisa_javits
www.alisajavits.fi
VJ Random Doctors
VJ Group Random Doctors was set up 2004 in Helsinki. Since then, Random Doctors has been one of the most active VJ Groups in Finland. Mixing up live visuals they explore the depths of our cultural subconscious fearlessly challenging djs and musicians to push their limits. From festivals to smallest underground clubs and art events Random Doctors stay true to their mission, to seek the magical moment where music, visuals and audience become one.
http://randomdoctors.com/
https://www.instagram.com/rajatonvimma/
DJ Marju
In addition to organising various DIY parties, Marju is both a resident DJ and promoter at Club Kaiku. Balancing between dystopian and utopian dream worlds she always presents a soundtrack reflecting the setting at hand. Soundscapes for Oodi are designed for the moment when the nights are getting darker and it's time to bid farewell to summer.
DJ A. Myllykoski
Aleksi Myllykoski is an audio artist, composer, producer, and a well-respected DJ from Helsinki, Finland (under the name A. Myllykoski). He is also part of the widely known electronic music group RinneRadio. His latest solo album St. Virus was released on Signature Dark label in 2022. At Oodi we will hear from him some high quality ambient, drone and dark ambient music with a twist.
http://www.aleksimyllykoski.fi/
DJ Arttu Partinen
Arttu Partinen has been an operator in the experimental music field for close to 25 years. He is probably foremost known as the producer of the Mental Alaska club nights and in recent years also as the head honcho of Artsy Records. In addition to booking shows and numerous dj sets he has been part of the group Avarus and played solo gigs as Amon Düde both in Finland and abroad. His sets are typically playful and restlessly bouncy but this time he presents his interpretation of ambient music.
DJ Mekaanikko
Mekaanikko launched his DJ career in 1994. He likes to cross genre boundaries freely, but his exclusive Signature Dark set will focus on ambient, drone and doom. With Mekaanikko on the cut, however, it Is always best to be prepared for surprises!
https://soundcloud.com/djmekaanikko
DJ Satoi
Satoi, a music project by Helsinki-based Tuukka Jääskeläinen, started its life as a channel to express emotion through rather conventional dance music. After exhausting that well dry, the experimentations started, which have led to the variety of different releases, from "They Pushed Him Under The Current To Watch Him Drown" on Etherwerks, with its unconventional techno, to lush ambiences of "Looped Unconscious Thought Patterns In Audible Format", released on Kaukana Väijyy Ambient. Nowadays, the Post—Rift collective serves as the primary channel for audible results of this process. Citing the landscape of futuristic cities as an imitable aesthetic, trying to infuse it to the vibes of deeper techno and ethereal ambient, with a hint of IDM in the mix, his hidden audio laboratory is cooking aural hallucinations in slow, albeit constant pace.
https://satoi.bandcamp.com
https://soundcloud.com/satoi
https://post-rift.bandcamp.com
Event location:
Maijansali, Ravintola Oodi (Helsinki Central Library Oodi)
Media