2020-05-30 Esa Ruoho Plugged into Nothing Live set at Further_In (Twitch)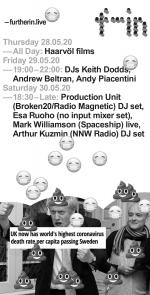 Event
Event name
2020-05-30: Further_in Week 9: Esa Ruoho, Arthur Kuzmin, Designers Not DJs
Description
Week 9 and we still haven't given up in tears yet!
Fully mixed bag this week with films, DJs and live music...
Thursday is given over all day to HAARVÖL -the Portuguese based collective who meld music and film to amazing effect. We've screened their work before, but this time we're fortunate enough to have been given three premieres of work not seen anywhere else - streaming all day from 12.30
Friday sees the inaugural DESIGNERS NOT DJS night, in which visual creatives better known for their design skills take to the turntables to play some of the music that's inspired them. Corralled together by WTSTCA, the art director for our Broken20 label, the lineup includes KEITH DODDS, ANDREW BELTRAN and ANDY PIACENTINI, from 7.30pm
And Saturday is a night of live performances - warmed up by music from our own PRODUCTION UNIT and then live sets from ESA RUOHO (aka Lackluster - playing a special no-input mixer ambient set) and MARK WILLIAMSON (SPACESHIP) before ARTHUR KUZMIN from NNW Radio rounds things off with an A/V DJ set.
Come join us!