2019-05-04 Lackluster live at Kontula Electronic Warm-up, Kalasataman Vapaakaupunki (Olohuone, Redi), Helsinki, Finland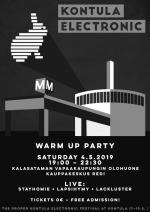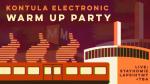 Event
Event name
Kontula Electronic Warm-up
Venue
Venue name
Kalasataman vapaakaupunki (Olohuone, Redi)
Address
Hermannin rantatie 5
00580 Helsinki
Finland
Description
Juhlimme ja lämmittelemme ennakkoon mainiota Kontula Electronic kaupunkifestivaalia. Livenä musiikkia esittävät Lapsihymy, Stayhomie ja Lackluster.
We are celebrating and warming up for the fantastic urban festival, Kontula Electronic, with live performances from Stayhomie from St.Petersburg and Lapsihymy and Lackluster from Helsinki.
LIVE: Lapsihymy, Stayhomie, Lackluster
Kontula Electronic Festival happens on the 17th to 19th of May 2019 at the Kontula shopping mall area.
Media