2018-05-12 HLER (Heikki Lindgren & Esa Ruoho) live at More than Noisepected at Mimstuudio, Tallinn, Estonia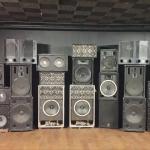 Venue
Address
Kaarli puiestee 9
10142 Tallinn
Estonia
Description
Greetings and Noise!
An evening FULL of different performative acts->
5 artists + local support!
Harald Jordal ; Sean Bell ; Shawn Pinchbeck ; HLER ; + local support ...
---
Harald Jordal
Harald Jordal presents a repertoire of instrumental music influenced by electroacoustic music, digital noise, alternative rock.
Coming from both the computer and the electric guitar, the sound field explored is glitchy and exciting, and tactile and harmonic.
Harald Jordal is a composer from Norway. He works in close relation with performers to create pieces with elements of electronics and theatre. Often problematizing the use and ease of technology. In his solo works, he focuses on mixing different styles of electronic music, from contemporary to popular genres, through programming and electric guitar performance.
His music has been performed in Aarhus (WP), Vilnius (WP), Graz, Helsinki, and Berlin, and regularly in Oslo. In 2017 he co-produced the bronze winner of Europe's First Student 3D Audio Production competition in Graz.
As of 2017, he organizes the concert series LISA, and is a composer and electronic performer in the international contemporary music ensemble Echtcore.
https://soundcloud.com/harald-jordal/electric-blue-cuts
https://soundcloud.com/harald-jordal/shoegazing
---
Sean Bell
Sean Bell presents a compilation of songs from music history, circulating around the themes of love, loneliness, belonging and doubt. In combination with Bell's own self composed songs, these textual themes intertwine, creating an atmospheric whole. The songs, both old and new, are dressed and coloured with simple rearrangements and playful interpretations. Often with a hint of irony.
Sean Bell is a young counter-tenor from Oslo. He works mainly with re-interpretations of the classical song repertoire, from the 14th century till today. Bell also works with contemporary music, and has world-premiered five pieces for counter-tenor in the last year. Bell works with a variety of ensembles: Ny Norsk Messingkvintett (a contemporary brass quintet), Oslo 14, Ensemble +47, The Norwegian Soloist Choir, and Ensemble 96.
He is also member of the duo Andersen/Bell (with guitarist Andreas Andersen). The duo has focused on producing new interpretations of songs by Norwegian composers, arranging them for counter-tenor and electric guitar. Bell is also a songwriter, and leads his own band, - Sean Bell's Heptic Six. The band recently released their first EP.
Links:
https://www.youtube.com/watch?v=GNeT9qm0HiU
---
Shawn Pinchbeck
Shawn Pinchbeck is an Alberta, Canada and Viljandi, Estonia based electroacoustic music composer, new media artist, performer, installation artist, lecturer, curator, and sound engineer. His award winning performance works and installations have been presented widely at numerous festivals and exhibits across Canada and Europe. He collaborates extensively, creating interdisciplinary works with artists of all backgrounds.
In the last year, he has been focusing on music for contemporary dance with Edmonton, Alberta based Good Women Dance Collective and his own solo electroacoustic music and interactive video performances; having presented works in Canada, Estonia, Latvia and most recently at the Seeing Sound Symposium in Bath, UK. He also was Artistic Director of the recent Edmonton Sea of Sound Festival.
Shawn has an MMus and PhD in electroacoustic music composition from the University of Birmingham, UK. Dr. Pinchbeck currently works as the Studio Manager and recording engineer at the Grande Prairie Regional College in Northern Alberta and teaches MA studies in sound and interactivity at RISEBA University and Liepaja University in Latvia.
https://soundcloud.com/shawnpinchbeck
---
HLER
HLER is a collaboration between Ambient / Electronic music composers Heikki Lindgren (Vongoiva) and Esa Ruoho (Lackluster) from Helsinki, Finland. They have been releasing music and playing live solo since the 90s and in 2018 they decided to collaborate with a minimal approach to sound. The rare and very expressive Peruvian monophonic synthesiser Atomosynth Mochika XL was chosen to be the singular sound source for the live performances. Heikki does sonic mining with the monosynth and Esa processes the results in real time with Ableton Live and Renoise. The outcome takes the audiences to a journey through the deepest depths of the oceanfloor, sends them flying with migratory birds along the Earth's magnetic field, finally passing through the ionosphere's static towards the Kuiper belt. And then gently return back to Terra with a purified mind.
https://soundcloud.com/lackluster/hler001
---
More info soon!
---
*** Concert events @ MIMstuudio are donation based ***
Warmly welcome!